Emerging from this season's dark clouds has been a couple of rays of sunshine including the obviously phenomenal play of the Canadiens first line and more specifically David Desharnais and Max Pacioretty. And although Erik Cole has also been a stud throughout this season, the hope was that he would be - just that - considering the contract that he was signed for. But what I wanted to focus on was another bright light, a light that may not have shown earlier on in this season and may have faded a tad more recently but that light is just as important to the future success of the Montreal Canadiens and is there new hope, Alexei Emelin.
Alexei Emelin has shown that he can play in the NHL and play well. Has he made mistakes? Most definitely. Has he looked lacked consistency? He most certainly has. But what he has shown is the ability to play important minutes against top-tier players and adjust to a North American game in a relatively short period of time. It's important to note that it takes longer for a defenseman to develop than it does a forward in this league and at the ripe old age of 25, Alexei is just entering his prime.
When you think about what he has gone through, it's really quite impressive the way he has developed and matured as a player so far. From being an outsider looking in under the Jacques Martin regime to leading the team with ice-time (for a period) under Randy Cunneyworth, the kid has seen the full spectrum of how easily you can go from a low to a high and back (being a recent healthy scratch). That's all part of the process of becoming a full-time NHL defenseman - just ask the younger and more talented P.K. Subban. What's most impressive is that he's adapted to a new rink-surface, a faster game, more highly skilled players all the while without a mentor on the ice to guide him in his native language. The thought process all along, must have been that Andrei Markov would be the perfect mentor to guide Alexei to becoming a successful NHLer.
The things that have impressed me most about Emelin has been his fearlessness on the ice. He will hit any player with ferociousness and not worry about the consequences. He skates extremely well and makes very quick decisions with the puck, both key assets for a defenseman to have. For the most part, he's a stay-at-home defenseman but with the ability to jump up and make an offensive play. He has a decent shot and he did score 11 goals in the defensive KHL while also playing on the powerplay. As with any player adjusting to defense in the NHL, first you concentrate on defense and then you go ahead and add offensive flair.
The issues that Emelin has to work out are his overall fitness and consistency (which I believe go hand in hand). I found it strange that he would punish player after player for a 4 or 5 game stretch and then 'disappear' for 3 or 4 games with almost no hits. He also needs to learn that hitting your opponent is just as important during a game that you're losing as it is during a game that you're winning. Finally and most importantly, he needs to work very hard on his overall physical fitness. The KHL season is only 50 or so games long whereas the long 82-game schedule of the NHL has clearly begun to take a toll on the young Russian. Although I'm sure it's not all physical, there must definitely be an added mental strain as well from all the added practices, flights, and related issues of a longer season. Knowing just what to expect for next year will most certainly help alleviate some of those problems.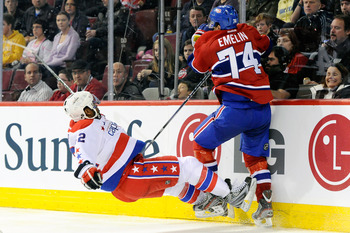 What Emelin has shown me in just part of one season is that he has the potential to become a top defenseman in this league and be the cornerstone of a young developing team. Imagine a healthy Andrei Markov paired with a robust and punishing Alexei Emelin on your first pairing. A flamboyant and highly skilled PK Subban paired with a smooth-skating monster in Jarred Tinordi as your second pairing. And a dependable Josh Gorges paired with an emerging offensive star in Nathan Beaulieu. Yes that defensive picture is more likely the one that we'll see in 2 years time rather than next year but it does look mighty impressive from here.
As for next year, Markov-Emelin, Subban-Gorges, Diaz-(a free agent D-man).
Do you see the same potential in Emelin or are you seeing to many flaws in his game?